About the Founder, the Board & Our Team
(Left to right) Gail Rigelhaupt, Dr. Simone Lundquist, Alan Leventhal
Dr. Simone Lundquist, Founder, President & Executive Director of Open Doors to Future Possibilities, Inc.
Dr. Simone Lundquist has a Ph.D. in Clinical Psychology, a Master of Science in Clinical Psychology and another Master of Arts in English Literature and Linguistics. She has taught at prestigious universities, colleges, and institutes for over 35 years and is currently an adjunct Professor at San Jose State University. She is extremely excited that she has finally been able to make her lifetime dream a reality; the establishment of this non-profit, where she and her colleagues provide low-cost consultation services for healing and transformation to the underserved members of the community to help them overcome the problems and obstacles that are holding them back, achieve their goals in different areas, and improve their relationships so they can live happier, more successful lives consistent with their own values and intentions for life.
Dr. Lundquist has gained rich experiences serving culturally diverse clientele from different walks of life in community mental health agencies such as Momentum for Mental Health, La Selva Group Behavioral Health Services, Contra Costa Crisis Center, the Center for Survivors of Torture, Asian Americans for Community Involvement, and her private practice for over 25 years now. She has helped improve the lives of hundreds of her clients including Veterans returning from combat who suffered from trauma, depression, anxiety, survivor guilt, emptiness, anger, loss of sense of belonging, conflict with their spouse and children, homelessness, problematic alcohol or drug use, and suicidal thoughts. Her successful 'Voice Hearing' groups facilitated the liberation of many individuals diagnosed with Schizophrenia from the damaging impacts of the symptoms, labels, and isolation, making it possible for them to enjoy successful independent lives.
As a professional presenter, she has provided numerous trainings, workshops, and panels on effective ways to help people with different presenting problems such as depression, anxiety, anger, loss, grief, trauma (war, sexual assault, violence), and Schizophrenia at National Alliance on Mental Illness (NAMI), California Association of Social Rehabilitation Agencies (CASRA), Momentum for Mental Health, California School of Clinical Psychology (CSPP), Asian Americans for Community Involvement (AACI) and many other SF & SJ Mental Health agencies.
Dr. Lundquist developed the Personal Agency Questionnaire (PAQ), an outcome assessment tool based on the concept of agency in Narrative Theory in 2012 http://pqdtopen.proquest.com/pubnum/3722307.html. She conducted another research on this outcome measure (PAQ) with added variables of gender, perception of being overweight, and fat acceptance to establish additional validity and reliability for the Personal Agency Questionnaire in 2015. Currently, Dr. Lundquist maintains an active line of research investigating the damaging impacts of the dominant cultural discourses on the lives of individuals and their sense of personal agency.
Colonel Christopher Starling, USMC (Ret.), Vice President & Director of Open Doors to Future Possibilities, Inc.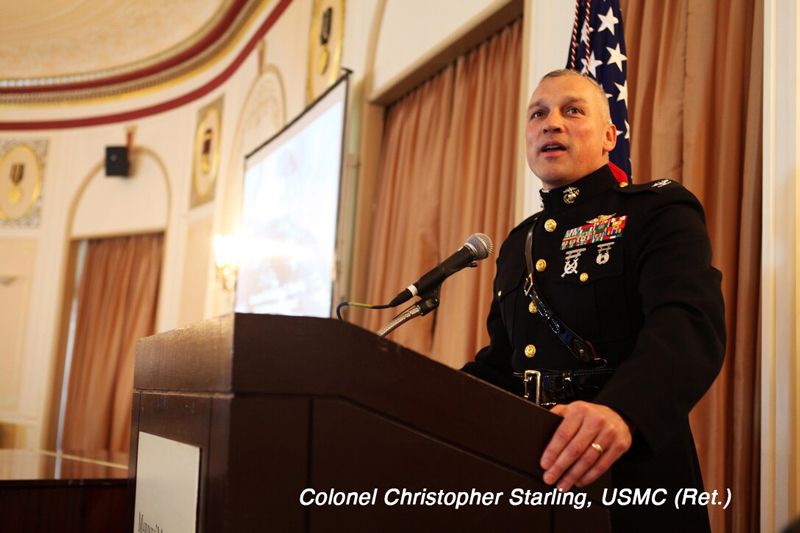 Colonel Chris Starling retired from the Marine Corps with 26 years of service as an infantry officer, completing ten overseas deployments including three combat tours. His post-retirement work has been focused on the Veteran community. Currently, he is the Executive Director of NPower California, a 501(c)(3) non-profit organization with the mission of creating pathways to economic prosperity by launching digital careers for military Veterans and young adults from underserved communities. He also serves on the board of trustees at San Francisco Maritime National Park Association as well as Veteran Launch Board of Advisors, Main Street Launch.
Colonel Starling earned his BA in Modern Languages from the Virginia Military Institute and a Master's degree in Public Administration from the City University of New York. Additionally, he was a National Security Affairs Fellow from 2007 to 2008 at Hoover Institution, Stanford University where he conducted research on current and future national security issues.
Colonel Starling has served in the 1st, 2nd, and 3rd Marine Divisions, participating in Operations Desert Shield, Desert Storm, and Iraqi Freedom. While on active duty, he commanded the 2nd Battalion, 2nd Marines in Camp Lejeune, NC, and the 23rd Marine Regiment in San Bruno, CA. His other previous assignments include service in the U.S. Pacific Command's Counter-Drug Inter-Agency Task Force in Alameda, CA and as an Assistant Professor of Military Science at the U.S. Military Academy, West Point; Chief of the Partnership Division at U.S. Africa Command in Stuttgart, Germany; and the senior U.S. Military Advisor to the Emirati Presidential Guard in Abu Dhabi, United Arab Emirates.
Alan Leventhal, Treasurer & Director of Open Doors to Future Possibilities, Inc.
Alan Leventhal received his Master of Arts Degree in Social Sciences with Archeological Emphasis. Since 1978, Alan Leventhal, has been a Lecturer in the Departments of Anthropology and Urban at San Jose State University. For more than three decades, he has served as the Information Technology Consultant of the Office of the Dean College of Social Sciences at San Jose State University. He has worked as a staff archaeologist and ethnohistorian for numerous archaeological sites in California and Nevada and has published extensively on related topics.
Since the 1980s, he has worked with the Muwekma Ohlone Tribe of the San Francisco Bay Region. Muwekma men have joined thousands of other Native Americans and served in the United States Armed Forces in the Army, Navy, and Marine Corps throughout the wars that the United States has been involved in. Please click here: http://www.militarymuseum.org/Muwekma.html to read more about the military history of the tribe.
Alan Leventhal had been recognized, commended, and awarded for his work in the Native American and Chicano Communities, for his work in restoring and reaffirming the tribal status of tribes throughout California as well as his work in the area of human rights and human relations, and been the recipient of the Martin Luther King, Jr. Good Neighbor Award among the numerous recognitions of his dedication and commitment to human rights.
Gail Rigelhaupt, Secretary & Director of Open Doors to Future Possibilities, Inc.
Gail Rigelhaupt earned her Master of Science in Counseling and another Master of Science in Early Childhood Education. For the past 24 years, Gail Rigelhaupt, has worked throughout Contra Costa County with marginalized populations of women, children, and families captured by and affected by substance addiction. She currently serves as Clinical Director for Ujima Family Recovery Services where she supervises substance abuse treatment programs and the Ujima Children's Recovery & Family Education Program.  She has devoted her career to counseling, family therapy and early childhood education with a particular focus on underserved communities.
Gail Rigelhaupt has been recognized, commended and awarded for her dedication and commitment to the marginalized women, children and families. Among those are: 'People who make a difference' certificate of Merit, 'Certificate of Merit, State of California Senate, Contra Costa County Alcohol and Drug Advisory Board,' and '20 years of Service Award.'
Our Educators at the Academy
Andrew Alvey, MBA
Nina Ghiselli, Psy.D.
Alan Leventhal, M.A.
Michael Loewy, Ph.D.
Simone Lundquist, Ph.D.
Jess Rigelhaupt, Ph.D.
Our Administrative & Consulting Professionals
Dr. Simone Lundquist, Ph.D. (Supervisor)
Saul Castillo
Ellen Fosse
Cristina Glebova
Katherine Hastings
Nathan Lee
Irene Raymond
Sylvia Soto
Melissa Vieyra
Volunteers
Joey Caputo
Brandon Chan
Jasmyne Chan
Christian Eugenia
Jacqueline Flores
Sarira Gharavi
Chet Hastings
Reza Khorami
Michael Lanning
Amy Morley
Zack Polluck
Ashley Prickett
Tim Proschold
Jack Reilly
Willy Reilly
1550 The Alameda,
Suite 150 San Jose,
CA 95126