You Can Make a Difference
Donate
All Gifts of any size Make a Difference.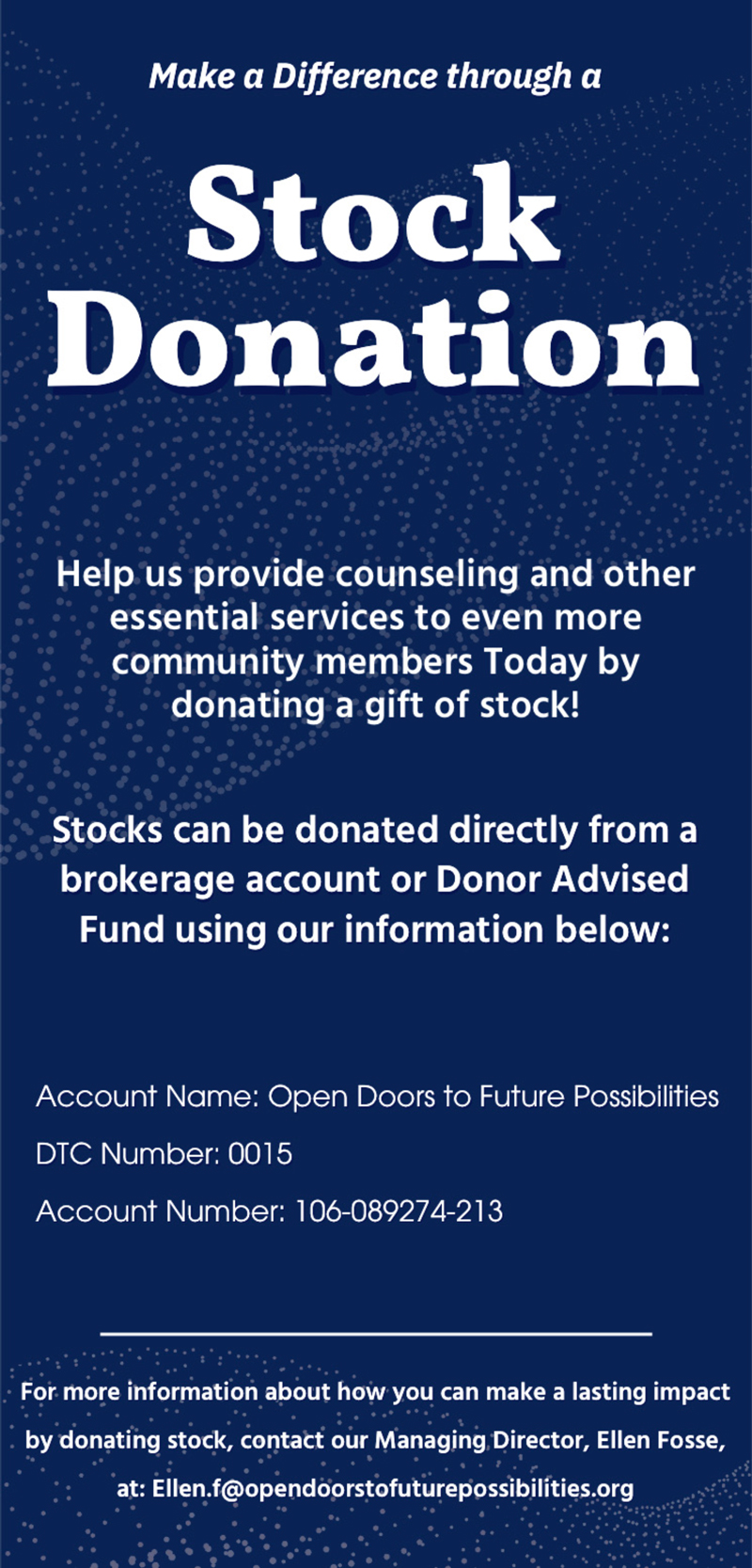 Volunteer
Individual and Group Opportunities
Hosting or joining a volunteer event
Organizing/Hosting fundraisers
Organizing/Hosting drives to provide services and resources to the marginalized and underserved community members such as birthday fundraiser or a neighborhood drive.
Sponsoring events
Making or matching a financial contribution
Contact volunteer@opendoorstofuturepossibilities.org to sign up for The Volunteer Mailing List and receive emails about available opportunities with Open Doors to Future Possibilities, Inc. Tell us more about yourself and your interests when you email us.
Get Involved
Become a Corporate Sponsor
You and your organization have the power to provide our community members the opportunity to heal and transform through receiving the services they need. Partner with Open Doors to Future Possibilities to make a stronger, healthier, happier community we can all be proud to be part of.
To learn more, please contact volunteer@opendoorstofuturepossibilities.org
What Clients are Saying
Amazing Speaker!
"One of the best!!! Experienced, knowledgeable, understanding, intelligent, and needs to continue to educate! She was also Very open and Helpful when answering the questions that the audience had! Thank you!"
Jon V.
A Master At Getting To The Root Cause
"Dr. Simone is a master at getting to the root cause and giving simple workable solutions to improving your situation :)"
Brian Coyle
Address:
1550 The Alameda, Suite 150
San Jose, CA 95126
Call Us:
408-564-7228
408-564-7174
Toll Free: 1-888-291-7303

1550 The Alameda,
Suite 150 San Jose,
CA 95126