Our Supporters, Sponsors & Donors
We are grateful to our supporters, donors and sponsors for enabling us to provide the marginalized, vulnerable and underserved members of our community with much needed programs and services which strengthen their hope and resilience and help establish environments that are supportive of all people.
We thank you for making it possible for us to provide healing and transformation to low-income individuals and families through your donations, support and volunteering at Open Doors to Future Possibilities.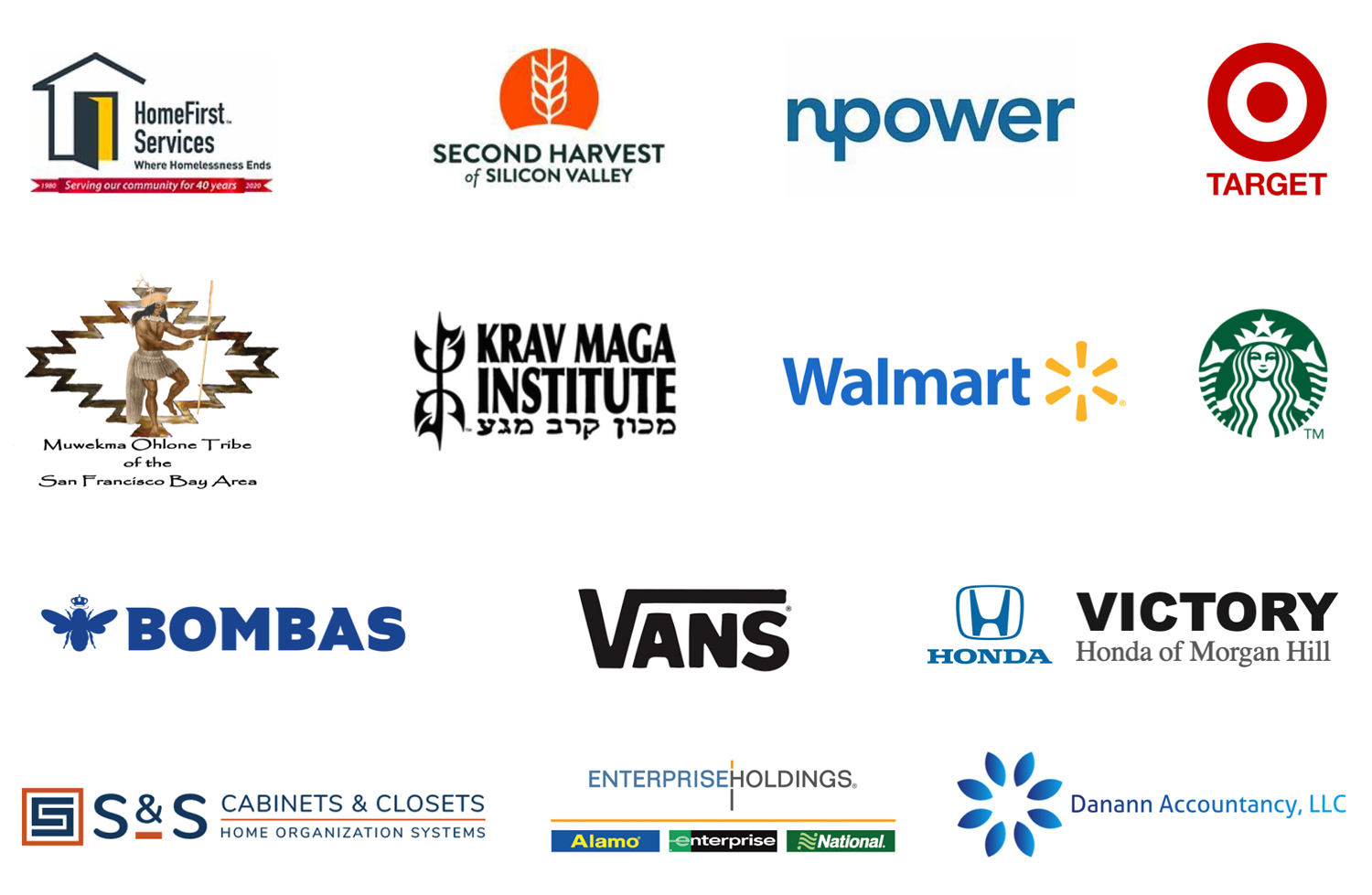 Alexander Glebov
Alkeen Wesby
Amanda Tortarolo
Andrew Alvey, MBA
Antonia Pulone & Stephen J. Walwyn 
Arlene D'agata
Blair Anaman Williams
Blanca Merlo
Casey Criste
Cristina Napolitano
Cynthia Repella
Cynthia Whitehead
Dianna Bonfield
Elena Basurto
Elisha Jenkins
Ellyn Kaschak, Ph.D.
Eloise Seegers
Florence Thomas
Hyunjoo Pae
Jacqueline Duran

James Weaver

Janice Richardson

Jeff Braverman

Jeri Jewitt

Joe Campbell

Joe McNamara

Julianne Latimer

Karen Skavdahl

Kimberly Fletcher

Kimberly Schubert

Kira Martin

Kristine Slear

Kristine Thompson

Linda Leas

Lisa and Paul Caputo
Margo Mead
Mari LaBelle

Mark Christie

Mary Herk

Mehrdokht Shirmohammadi

Mel Krizo

Michael Loewy, Ph.D.

Mike Lanning

Milad Anvar
Naga Chaluvadi

Owen Owunwanne

Patty and Tony Vieyra

Paula Messina, Ph.D. – San Jose State University Professor of Geology

Paulette Washington

Phyllis Minnagh

Raymond Crnkovic

Reza Hakimpour

Reza Khorami
Richard Scott
Roberto Machado

Robert Pellegrini, Ph.D. – San Jose State University Professor Emeritus of Psychology – Past President, Western Psychological Association

Sanjaya Sarsambi

Sarira Gharavi

Steven Harrison

Steven Johnson

Sudhakar Kalluri

Suzanne Emile

Timothy Butler

Trisha Tran

Valerie A. Main

Wenhua Xu

Chet Hastings

What Clients are Saying
Amazing Speaker!
"One of the best!!! Experienced, knowledgeable, understanding, intelligent, and needs to continue to educate! She was also Very open and Helpful when answering the questions that the audience had! Thank you!"
Jon V.
A Master At Getting To The Root Cause
"Dr. Simone is a master at getting to the root cause and giving simple workable solutions to improving your situation :)"
Brian Coyle
Address:
1550 The Alameda, Suite 150
San Jose, CA 95126
Call Us:
408-564-7228
408-564-7174
Toll Free: 1-888-291-7303

1550 The Alameda,
Suite 150 San Jose,
CA 95126